Perhaps a few first-person reports from our listeners would be in order, for those distant but interested, concerning the usual sorts of flooding and damages from long-predicted El Niño weather fronts that put an end to the long droughts. Reminders of the unwillingness of authorities to take the measures necessary for flood control and protection of drinking water supplies.
News item: Aguas Andinas, responsible for potable water supplies in the RM, has suspended water service to 34 comunas in the region.
News item: "Flooding reveals Chile repeats old mistakes"
Two known dead, four disappeared, 13,200 forced from homes.
---
Or some media images.
Near Concepción

Near Rancagua
San Fernando, south of Santiasco
At least this bridge wasn't built upside-down, as in Valdivia. Image appears to be collapse on the Panamerican highway.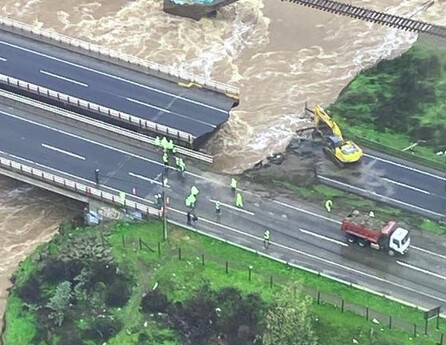 ---